Unfairly Playing With Puerto Rico's Political Status
Fox News Latino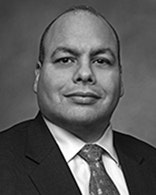 One thing is certain — President Obama has inexplicably decided to stand by inaction and ignore the loud voices of a clear majority in Puerto Rico asking for permanent change.
- Javier Ortiz
Before Congress left for August recess, the U.S. Senate Committee on Energy and Natural Resources held a hearing on to discuss the future political status of Puerto Rico. Although President Obama's Puerto Rican Task Force has publicly stated that resolving Puerto Rico's political status is the territory's most pressing issue, no one from the Obama administration attended or participated in this hearing.


By remaining on the sidelines, President Obama's White House has decided to cast aside the will of the people of Puerto Rico.

In November 2012, 54 percent of Puerto Rico's residents voted to reject their commonwealth's status as an unincorporated territory, and 61 percent of voters cast their ballot in favor of statehood for Puerto Rico, with a full 72 percent of the eligible electorate participating.

In December 2012, the White House unequivocally stated that "the results were clear, the people of Puerto Rico want the issue of status resolved, and a majority chose statehood in the second question." A White House spokesman added, "Now it is time for Congress to act and the administration will work with them on that effort, so that the people of Puerto Rico can determine their own future."


Read more: http://latino.foxnews.com/latino/opinion/2013/08/07/unfairly-playing-with-puerto-ricos-political-status/#ixzz2bKx6IH42