NY TIMES
BREAKING NEWS
Monday, April 15, 2013 12:27 AM EDT
Nicolás Maduro, the acting president and handpicked political heir to Hugo Chávez, narrowly won election to serve the remainder of Mr. Chávez's six-year term as president of Venezuela, officials said late Sunday. He defeated Henrique Capriles Radonski, a state governor who ran strongly against Mr. Chávez in October.
Election authorities said that with more than 99 percent of the vote counted, Mr. Maduro had 50.6 percent to Mr. Capriles's 49.1 percent.
Nicolás Maduro declared Venezuela election winner by thin margin


Political heir to Hugo Chávez claims victory in presidential election but rival Henrique Capriles demands recount
Virginia Lopez in Caracas and Jonathan Watts, Latin America guardian.co.uk,
Monday 15 April 2013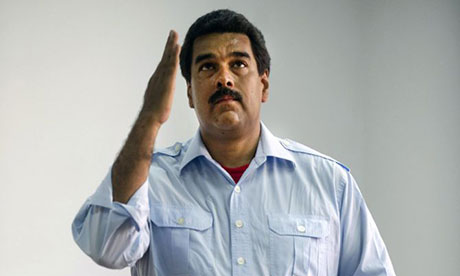 Nicolás Maduro, shown as he cast his vote, has been named
the winner of the presidential election in Venezuela.
Photograph: Raul Arboleda/AFP/Getty
The first presidential vote of the post-Chávez era resulted in turmoil on Sunday night after the declaration of a razor-thin win for the ruling party candidate Nicolas Maduro left an enraged opposition declaring fraud and demanding a recount.