@CNNMoney
January 5, 2012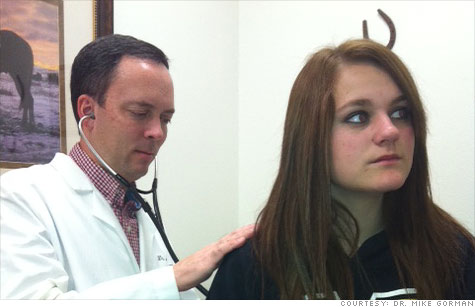 Dr. Mike Gorman has taken out an SBA loan to keep his rural solo practice running in Logandale, Nev. "If things don't improve fast, I will have no choice but to close my doors," he said.
NEW YORK (CNNMoney) -- Doctors in America are harboring an embarrassing secret: Many of them are going broke. This quiet reality, which is spreading nationwide, is claiming a wide range of casualties, including family physicians, cardiologists and oncologists.

Industry watchers say the trend is worrisome. Half of all doctors in the nation operate a private practice. So if a cash crunch forces the death of an independent practice, it robs a community of a vital health care resource.
"A lot of independent practices are starting to see serious financial issues," said Marc Lion, CEO of Lion & Company CPAs, LLC, which advises independent doctor practices about their finances.

Doctors list shrinking insurance reimbursements, changing regulations, rising business and drug costs among the factors preventing them from keeping their practices afloat. But some experts counter that doctors' lack of business acumen is also to blame.

Loans to make payroll: Dr. William Pentz, 47, a cardiologist with a Philadelphia private practice, and his partners had to tap into their personal assets to make payroll for employees last year. "And we still barely made payroll last paycheck," he said. "Many of us are also skimping on our own pay."

Pentz said recent steep 35% to 40% cuts in Medicare reimbursements for key cardiovascular services, such as stress tests and echocardiograms, have taken a substantial toll on revenue. "Our total revenue was down about 9% last year compared to 2010," he said.v. "If things don't improve fast, I will have no choice but to close my doors," he said.