The Treasury Department has launched an investigation into a now-defunct solar panel company's $528 million stimulus loan, focusing specifically on the federal bank that processed it.

The loan to Solyndra has set off a firestorm on Capitol Hill, with a Republican-led House committee releasing emails suggesting the White House had pressured budget officials into expediting their fiscal review of the loan ahead of a plant groundbreaking. The company was touted prominently by the Obama administration for its work growing so-called green jobs.

But the company went bankrupt this month and is now the target of investigations by the FBI and the Energy Department, as well the House Energy and Commerce Committee.

The Treasury Inspector General's Office said Wednesday night that it too, is investigating the loan, because it was processed by Federal Financing Bank, a government lending institution that falls under Treasury's control. The Treasury's investigation was first reported by ABC News, which quoted a spokesman as saying investigators would "look at everything the FFB had to do with its role in this thing."
Read more:http://www.foxnews.com/politics/2011/09/14/treasury-joins-fbi-congress-in-investigating-stimulus-loan-to-failed-solar/
*****************************************************************************************************
Solyndra Filing a Disaster for Obama
By Scott McGrew
|Friday, Sep 2, 2011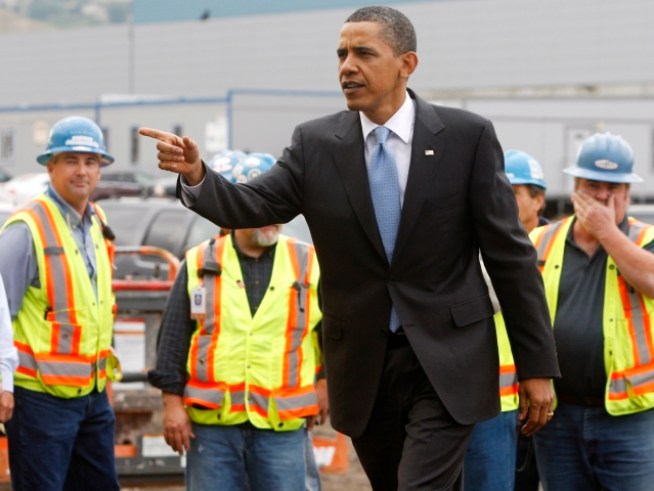 U.S. President Barack Obama heads inside to deliver a speech after meeting with construction workers building a new Solyndra solar panel factory May 26, 2010 in Fremont, California. President Obama toured Solyndra Inc., a growing solar power equipment facility that is adding jobs as they expand their operation.
President Obama faces political catastrophe in the form of Solyndra -- a San Francisco Bay area solar company that he touted as a gleaming example of green technology. It has announced it will declare Chapter 11 bankruptcy. More than 1,100 people will lose their jobs. (Original article here.)

During a visit to the Fremont facility in spring of 2010, the President said the factory "is just a testament to American ingenuity and dynamism and the fact that we continue to have the best universities in the world, the best technology in the world, and most importantly the best workers in the world. "

It's not his statements the administration will regret; it's the loan guarantees. The President was celebrating $535 million in federal promises from the Department of Energy to the solar startup. The administration didn't do its due diligence, says the Government Accountability Office. "There's a consequence if you don't follow a rigorous process that's transparent," Franklin Rusco of GAO told the website iWatch News.

The President touted the federally back money as a way to create jobs. The President's opponents immediately jumped on the deal as Solyndra made its first layoffs.

Republican Congressman Cliff Stearns of Florida warned, "I am concerned that the DOE is providing loans and loan guarantees to firms that aren't capable of competing in the global market, even with government subsidies."

Another critic, Fred Upton of Michigan: "The unfortunate reality is that loan guarantee highlights many of the systemic flaws associated with the stimulus in the mad dash to spend hundreds of billions of dollars."

more: http://www.nbcbayarea.com/news/local/Solyndra-Filing-a-Disaster-for-Obama-128816968.html
******************************************************
Solyndra's bankruptcy: 'Political catastrophe' for Obama?
The Week

– Thu, Sep 1, 2011
Obama nurtured the solar-panel maker with $535 million in his push to create green jobs. Now it's kaput and its 1,100 employees are out of luck

Solar-power startup Solyndra — one of the flagships of President Obama's efforts to create green-energy jobs — has shut down, and plans to file for bankruptcy. Solyndra received $535 million in federally guaranteed loans to expand, and Obama once visited the company's Silicon Valley factory to congratulate its workers on their bright future. But Solyndra says it just can't compete with cheaper solar panels from China, and now its 1,100 employees are out of work. Is this a "political catastrophe" for Obama, or just a painful setback in the transition to clean energy?

Solyndra's collapse proves Obamanomics has failed: This company was supposed to be part of Obama's "green-jobs explosion," says Ed Morrissey at Hot Air. Now it's "a poster child for the failure of his stimulus, his green-jobs push, and social engineering in general." Obama said Solyndra would demonstrate the effectiveness of his economic policies, and it did — the company never made a profit, and instead of creating jobs, it sent 1,100 people into the unemployment line.
"Solyndra shuts its doors"

This is not Obama's fault: "The investment our government made in Solyndra wasn't a hand-out,"says Green for All. It was an attempt to "level the playing field" so Solyndra could compete with Chinese companies that receive up to 20 times more help from the state than U.S. firms do. This setback proves we need to invest more in "the inevitable green economy" — not less — unless we want to import our solar panels, batteries, and everything else from overseas.
"Statement on the announced closure of Solyndra"

Clearly, there were better ways to spend the stimulus: If Obama really wanted to create jobs, says Logan Penza at The Moderate Voice, he should have targeted companies based on their "ability to compete." But he didn't want to anger Democrats, so he saddled taxpayers with debt to help green companies that liberals can love. Obviously, the economy would have been better off if he had spent the money in ways that were "cost-effective instead of merely politically convenient."